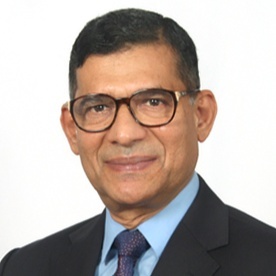 Capt. John Prasad Menezes
CEO, Principal Marine Consultant, Nautical Surveyor,
Expert Witness and Maritime Arbitrator
Capt. Menezes obtained his LLB from Mangalore University, and his LLM in Maritime Law from London Metropolitan University. He has provided consultancy services to premier investigation agencies and global government bodies, including the Government of India.
Capt. Menezes has handled Admiralty Claims including Collision, Salvage, Grounding, Fire, Pollution, Towage, CTL, Wreck Removal and other Casualties besides Sale and Purchase Inspections; Loss Prevention and Risk Management Surveys as per client requirement. He works as  Flag State Safety Inspector and as Casualty Investigator for Flag Administrations. He has experience in offshore safety inspections of FPSO's, MODU's and tankers besides Safety Inspections of Passenger Vessels. Associate Surveyor to International Cargo Gear Bureau Inc. NY.
Capt. Menezes is currently Executive Board Member/Trustee of the Nautical Institute headquartered in London. He was Deputy Chairman of the IMO Committee of the Nautical Institute and member of the Executive Council of Nautical Institute for six years. He is a Fellow of the Nautical Institute, a Fellow of the Institute of Chartered Shipbrokers; the first Fellow in India of the Society of Consulting Marine Engineers and Ship Surveyors and a Fellow of the Company of Master Mariners of India. He has previously been a Deputy Master of the Company of Master Mariners of India, Mumbai.
Presently he is a Director of Mission to Seafarers Association of India, Mumbai and also serves as Hon. Secretary of Institute of Chartered Ship Brokers (ICS) East India Branch, Chennai.
Capt. Menezes was earlier an Independent Director of Seven Islands Shipping Ltd. (SISL), Mumbai and Mangalore Refinery and Petrochemicals Ltd. (MRPL), a Trustee of New Mangalore Port Trust (NMPT), President of Kanara Chamber of Commerce and Industry (KCCI) and Director of Mangalore Special Economic Zone (MSEZ).
Capt. Menezes has been an Expert Witness for maritime cases since 1992, and a practising Maritime Arbitrator and Mediator since 2013. He has presented various papers on Alternate Dispute Resolution at the International Conference of Maritime Arbitrators ICMA-2009 in Hamburg, at the ICMA-2015 in Hong Kong and the ICMA-2017 in Copenhagen. He is a Supporting Member of the London Maritime Arbitrators Association, a Fellow of the Indian Council of Arbitration (ICA), and a Member of London Court of International Arbitration (LCIA) – Asia Pacific Users Council. Empanelled as Arbitrator with Singapore Chamber of Maritime Arbitration (SCMA), Mauritius International Arbitration Centre (MIAC), Emirates Maritime Arbitration Centre (EMAC) Dubai, Asia International Arbitration Centre (AIAC), Malaysia and China Maritime Arbitration Commission (CMAC), Beijing.
PROJECTS
The backbone of our business is well-executed projects to satisfy our clients.
View Projects